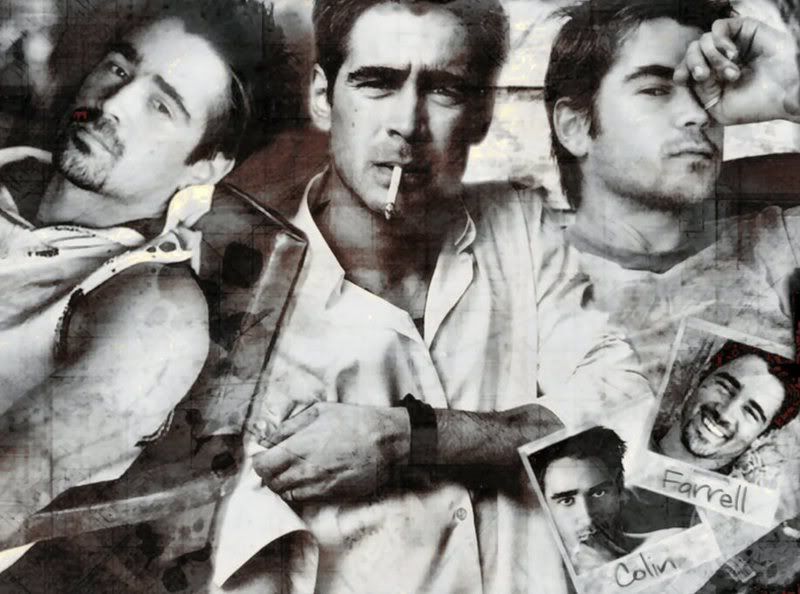 Birth Name: Colin James Farrell
Height : 1.78 m
Mini Biography
A native of Dublin, Ireland, Colin Farrell began turning heads in Hollywood when he starred in Joel Schumacher's Tigerland (2000), the story of American soldiers taken to the backwoods of Louisiana in 1971 to play war games in preparation for their first tour of duty in Vietnam. He garnered a Best Actor Award from the Boston Society of Film Critics for his portrayal of Bozz, a roughneck Texan recruit who helps his boot-camp buddies avoid Vietnam combat. Farrell also starred alongside Kevin Spacey in Thaddeus O'Sullivan's Dublin gangster movie Ordinary Decent Criminal (2000). It was Spacey who suggested him for the part after catching Farrell's riveting performance in the play "In a Little World of Our Own" at the Donmar Warehouse in London.

Born on May 31, 1976, Farrell studied acting at the Gaiety School of Drama in Dublin and had established himself as a recognizable talent back home with a starring role in the BBC series "Ballykissangel" (1996) and Deirdre Purcell's miniseries Falling for a Dancer (1998) (TV), in addition to a featured role in Tim Roth's directorial debut, The War Zone (1999). After "Tigerland", Farrell took on the role of Jesse James in American Outlaws (2001). Farrell then had a starring role in Phone Booth (2002), reuniting him with director Schumacher. He also co-starred with Bruce Willis in Hart's War (2002), which was shot on location in Prague, Czech Republic. Along the way Farrell has managed to work with legendary directors such as Steven Spielberg in Minority Report (2002). All this has happened for Colin by the age of 25, making him one of Hollywood's A-list young actors.
IMDb Mini Biography By: A. Nonymous
Spouse
Trivia
Son of Irish football player, Eamon Farrell.
Dropped out of the Gaiety Drama School in Dublin and a few months later auditioned for a part in "Ballykissangel" (1996) and was successful.
The youngest of the four children, he has one brother and two sisters: Catherine Farrell and Claudine Farrell.
His sister Claudine Farrell is also his personal assistant.
Ranked #98 in Premiere's 2003 annual Power 100 List. It is his first appearance on the list.
Named one of People Magazine's 50 Most Beautiful People in 2003.
His mother, Rita, forced him to take dancing lessons once his brother, Emmon Farrell Jr., started them. Emmon Jr. also got him into acting by attending an acting school and later recommending it to Colin.
Voted 6th in 'The World's Sexiest Man of 2003' in Company magazine.
His girlfriend, model Kim Bordenave, gave birth to a 7lb. 9oz. baby boy called James Padraig. He was born on Friday September 12th, 2003 in a Los Angeles hospital.
He has suffered from chronic insomnia since he was 12 years old.
One of his favourites books is "When Nietzsche wept" by Irvin D. Yalom.
Former son-in-law of actress Annette Ekblom.
Colin & Kim have decided to call their new baby James, which is actually Colin's middle name.
He says that growing up, one of his childhood idols was Al Pacino. He got the chance to work opposite his hero in The Recruit (2003) (an experience he described as "scary as hell to work opposite a legend," even though he says Pacino was one of the kindest men he'd ever met and says they still hang out together).
On his left ring finger, above the knuckle he has the name "Millie" tattooed. "Millie" was a nickname for his first wife, Amelia Warner.
He has two tattoos on his left forearm. The first one is the words "Carpe Diem" (Latin for "Seize the day"). Beside this tattoo there is a second tattoo, which is a black cross.
Auditioned to become a member of the Irish boyband, "Boyzone", but was turned down.
Daredevil (2003) marks the first time he has been able to use his own Irish accent in an American movie.
His idol Al Pacino called him "the best actor of his generation."
Irish citizen.
Shares his birthday with Brooke Shields, Clint Eastwood, the late Prince Rainier of Monaco, and French politician Henri Emmanuelli.
Played soccer during his youth.
Unauthorised biography by Jane Kelly: "Colin Farrell: Living dangerously".
Treated for exhaustion and dependency on prescription medication in December 2005. The medication was prescribed to the actor after a back injury, publicist Danica Smith said in a written statement, which revealed Farrell had checked himself into an undisclosed treatment center. "No other comments (are) to be made at this time," the statement said.
Was originally considered for the role of Matt Murdock/Daredevil in the 2003 film adaptation of the Daredevil (2003) comic while Ben Affleck, who ultimately played Murdock, was originally considered for the part of Bullseye (Farrell's character).
His acting idols and influences are Al Pacino, Steve McQueen, Paul Newman, Clint Eastwood, James Caan, and Marlon Brando.
Weighed 1 lb. 6 oz. at birth.
Was accompanied by Britney Spears to the S.W.A.T. (2003) US- premiere.
Was a line dancing instructor in a nightclub in Limerick called Docs (now known as Trinity Rooms).
Personal Quotes
Being Irish is very much a part of who I am. I take it everywhere with me.
(On people who drink tequila) "I tell them, 'When you're at home puking your guts out, I'll be here drinking my Amstel Light.'"
"I couldn't care less about who sees my bits ... My friends asked how I could do scenes like that and not get excited, but it wasn't like that. My bits looked the size of a cashew nut!" (on appearing nude in Tigerland (2000)).
[on physical training for film roles] "I find it the most tedious waste of life. It's so boring. I'd prefer to be sitting in a pub with a few strangers talkin' shit than looking at meself in the mirror runnin' on the treadmill."
It all goes back to [Joel Schumacher]. I wouldn't have done Phone Booth (2002) without him. I wouldn't be doing Hart's War (2002). I probably wouldn't have done American Outlaws (2001) if he hadn't picked me out of obscurity. I've worked, but not at the level or people I'm working with now if he hadn't taken a chance on an Irish kid playing a Texan.
I'm in no hurry to get anywhere. I don't have any plans. I don't have a map. If you did in this business, you'd destroy yourself.
On Hollywood: "I'm not seduced by it all. I swear to God. I'm easily pleased, yeah. Don't get me wrong, I'll indulge in it. I'll be in Los Angeles for two weeks and I'll have a laugh, get battered and have a buzz, but at the end of the day, I'll go home. It's just me earning a few more stories to tell everyone at home and all."
"It kind of went downhill, I was smoking a bit of reef. You know, you roll your first joint, drink your first beer and discover the girls and, well, that was it. I loved football, but I couldn't make the training any more" - on his football aspirations as a youth
I do have the ability to explore life and to be over the moon at the smallest thing - a few pints and a craic in the pub and I'm in heaven. But I have a melancholy side to me as well. Acting allows me to feel things, it kind of buys me human experience. And I don't mean this as acting as higher cause, because it's not, but it does kind of have a higher awareness emotionally.
I work my arse off. I'm never late, ask anyone. I'm only 27. I don't feel like a big star. I feel neither the pressure nor the grandeur of my situation, you know. I think I'm still trying to find my feet as an actor. And I know it ain't brain surgery, but it confuses me and it comes between me and my sleep a lot.
I'm just a true Irish boy at heart. I'm just myself, I stick by my guns and I treat people the way I think they should be treated, regardless of their status. And I just have a laugh.
(On the girl that will interest him) "The usual obvious bullshit. Sense of humour, a bit of danger, good fun. A good heart is a really sexy thing. All women have the potential to be sexy and it's nothing to do with the dress someone wears or the make-up they put on their face, it's the aged-old cliché saying: 'What comes from inside'. God, I've met gorgeous women who I'd fancy and give one to, but at the end of the day they're not particularly sexy because they haven't got much going inside and they are too concerned with themselves. And then I've met women who wouldn't be as nearly as attractive and, because of the sense of fun they have and their joi de vivre, as they say, they'd be much sexier and you'd fall for them in a nanosecond."
I get no kicks from going to the gym. It doesn't do it for me. Never has. Some people enjoy working out. But that's never done it for me. In the past, I'd breathe in heavily between takes. I sucked it in and did a take. That way it doesn't hurt the beer consumption at all.
"Anything I am and anything I hope to be, I have my mom to thank." Family Circle, 4-18-06
I think I was 8 or 9 when I had a f*cking mad thing for Marilyn Monroe. I used to leave Smarties, the Irish equivalent of M&M's, under my pillow with a little note saying, 'I know you're dead, but these are very f*cking tasty, and you should come have a few. I won't tell anyone.'
Salary
| | |
| --- | --- |
| Miami Vice (2006) | $10,000,000 |
| Alexander (2004) | $10,000,000 |
| S.W.A.T. (2003) | $8,000,000 |
| The Recruit (2003) | $5,000,000 |
| Minority Report (2002) | $2,500,000 |
| Hart's War (2002) | $2,500,000 |
Where Are They Now
(September 2003) Currently filming Oliver Stone's movie Alexander (2004) in Morocco.
(May 2004) Currently filming Ask the Dust (2006) in Cape Town, South Africa.
(September 2004) Filming The New World (2005) in Williamsburg, Virginia.
(February 2005) In Miami filming Miami Vice (2006).
(November 2005) He visited Argentina for two days.